Steve Belnaviz's farm in Islington. Steve is the farmer who first got
Nancy interested in Jamaican chocolate.
At Sastri's yard in Port Maria, he has set up an experimental fermenting station. Here he is fermenting
beans from Chamba's pods in an aluminum pan with holes for drainage for
about 1 week, covered with banana leaves followed by a week
of drying. The pile has to be big enough to generate enough heat for the fermentation to really
change the properties of the bean to the achieve the fine chocolate flavor and aroma that a chocolatier seeks.



On February 15, 2008 we held our first organic co-op organizing
meeting for chocolate farmers in Islington, Jamaica to introduce
them to organic farming principles and to meet Dr. Dwight E.
Robinson (on the right) of the Jamaican Organic Agriculture
Movement (http://www.joamltd.org).
This August (2009) we had two more meetings and invited Mr. Ellis to speak to the group
about the services of the Jamaican Agricultural Society for which he is the parish President.
Farmers in Cane Heap, also in the parish of St. Mary, have been organized by the Jamaican Cocoa Farmers Association.
The USAID has helped to fund a pilot greenhouse project to assess its effectiveness for drying fermented beans. Below, farmers learn how temperature plays in key role in fermenting.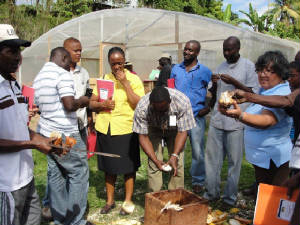 Farmer Wright from Flint River places newly harvested beans
on a spread of banana leaves prior to fermenting. (Thanks to USAID for
providing these pictures).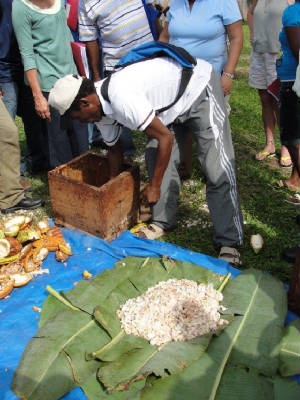 Most Jamaicans have never tasted chocolate like the ones I make and are popular today, using high percentages of cacao.
Many years ago Cadbury had a factory in Highgate, Jamaica. It ultimately sold to Jamaicans who made a variety of chocolate bars
for many years. Unfortunately it closed about 5 years ago, when bank loans were called in sooner than expected. Currently, the only cocoa production
is in Manchester where a small company makes cocoa powder and syrup. The way that Jamaicans use their chocolate is making cocoa tea.
To make cocoa tea, the dried beans are ground with a mortar and pestle or sometimes with a mortar in the stump of a tree. The ground
beans form a paste, like peanut butter, to which is added sugar, and typically nutmeg and cinnamon. As the temperature lowers, the ball
hardens and is stored. When ready for tea, the ball is grated into steaming hot water. Sometimes milk is added but fresh milk is not readily available.
In this picture, provided by the USAID, a group of women are weighing their product - they have begun making cocoa tea balls for export.